Career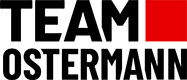 OSTERMANN is a success story - Because we always work as a team to achieve big goals.
Our values. That is what we are relying on.
Working Hand in Hand
One of the principles of our corporate culture is working hand in hand. For us, this means that every single employee can and should contribute his or her ideas. Flat hierarchies and a culture characterized by mutual respect create the space for this.
Openness
Communication and exchange among employees are our top priorities. We want to promote and maintain this through, among other things, our annual employee survey, regular performance reviews and the possibility of regular, anonymous superior feedback.
Success
We are proud of our success. And the story continues. We set ourselves ambitious short- and long-term goals that we achieve together.
Team
Whether in team sports or in growing companies: I am not successful on my own. We are successful as a team, when each individual contributes his or her skills.